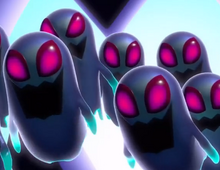 Alien Ghosts are sub-species of Ghosts and are also allies of the Ghosteroid.
They first appeared in the episode Planet Pac vs the Ghosteroid.
Appearence
Edit
The Alien Ghosts are metallic gray, have red alien eyes, and have the same shape a regular Ghost has.
The Alien Ghosts are protecting Ghosteroid.