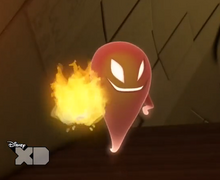 Fire Ghosts are species of ghosts that can breathe fire, and they are minions of Betrayus that work for him. Fire Ghosts are with ice ghosts and lightning ghosts. Get voiced by Rodger Bumpass.
Appearence
Edit
Fire Ghosts are orange and have slender upside-down teardrop bodies. They have brief diamond-shaped eyes and sinister mouths.
He was voiced by Rodger Bumpass. He is almost similar to Squidward from Spongebob Squarepants.