Grinder is a supporting character in Pac-Man and the Ghostly Adventures. He is Sir Cumference's robotic assistant, he may be dumb as a hammer but he comes in handy when danger arrives. Grinder is with Grindette.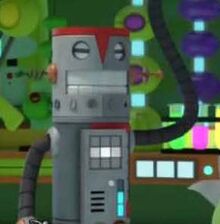 Sightings
Edit
He was accidentally left in space with the Lemon Rocket.
He acts like a popcorn machine in the episode called Jurassic Pac.
He loves to drink rocket fuel that causes him to breath fire.
He was created by Sir Cumference.
His head was accidentally knocked off the first time in the episode called Pac-Pong Fever, and again in Meanie Genie.
He creates a girl robot named Grindette in The Bride of Grinder.