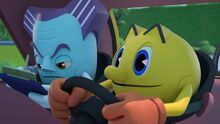 w3Mr. Strictler is Braces' father and Pac's driving teacher, he only appears in Driver's Pac. He is voiced by James Franco.
Appearance
Edit
He is voiced by James Franco who played as Roger_Howarth on General Hospital.
He would later reappear in Cave PAC-MAN where his appearance is used for a scientist who wants to put a cave-kid under the micro-scope after Spiral accidentally gave him away.
He failed his own daughter.
He is the father of Braces.