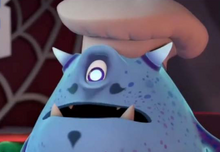 Ogle works as the Netherworld's cook of his own restaurant. Ogle is one of the Cyclops Ghost. He is voiced by Lee Tockar.
Personality
Edit
Ogle usually cooks the food for his friends, Buttler, Betrayus, Dr. Buttocks, all ghosts and all monsters. He is also known for eating netherworld food.
Appearance
Edit
Ogle is a Cyclops ghost with a moustache, goatee, and wears a chef hat. Also he was once a pac-person (revealed in No Body Knows).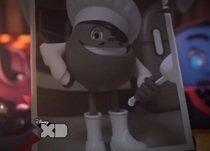 His rival is The Pac-It In Cooker.
He appears in "Pacman and the ghostly adventures" video game as one of the boss battle.