Pac-Man (also known as Pac and Pacster) is the main protagonist of Pac-Man and the Ghostly Adventures. His parents Zac and Sunny helped in the war against Commander Betrayus. Since then Pac is an orphan that who just found out that his destiny is to defeat the Ghosts and send Betrayus back to the Netherworld. With the help of Cyli, Spiral, Sir Cumference, President Spheros and the Ghost Gang (Inky, Blinky, Pinky, and Clyde), Pac is always ready for action.
History
Early life
Not much is known about Pac's early life. He was initially raised by his parents, until they supposedly perished due to fighting in the first PacWorld War. He has little memory of them, indicating that he was incredibly young when they died. He was later raised by his Aunt Spheria.[2]
Currently
Pac, upon becoming of age, attended a boarding school and met Cyli and Spiral along the way. When learning about the PacWorld wars, he was the only one in his class to admit to believing in ghosts. Later that night, he was chased into the school's maze. He accidentally stumbled across a portal to the Netherworld and opened it, leaving both his world and the Netherworld open to each other.
This lead to the first ever ghost attacks, likely ever. This was when he was taken to President Spheros' office and told about his past and legacy. Of course he knew some of it, such as that his parents perished when he was young, and that he was amongst some of the only Yellow Ones left. (It was later revealed that there were more Yellow Ones outside of the city Pac grew up in, during the episode New Girl in Town by Elli.) But his true destiny was revealed, that he could in fact eat ghosts and was amongst the few that could defeat the ghosts that came from the Nether Realm, with the help of the power berries.
Appearance
Pac has a yellow, completely round body and blue eyes. He wears red and white sneakers with a Pac-Man symbol on them and orange gloves. When he was a baby, he had a single curl of hair on his head, wore the same gloves and wore a diaper.[3] He has also been referred to as chubby in the past by Blinky. [4] [5]
He is commonly found with new gadgets invented by Sir Cumference, mainly for the purposes of capturing ghosts, and is also commonly found consuming power berries. First out of boredom, now out of necessity in times of need.
Personality
Pac is observed to be a brave teenager, and his main goal is to help make the world a better place. He's shown to be good-hearted, and humble in the way that he doesn't flaunt his famous title or background.
Pac is a glutton, to say the least. He's always hungry and will let very few things stop him in the name of food. Pac is also very loyal to those he holds close.
Sightings
Season 1
Season 2
Gallery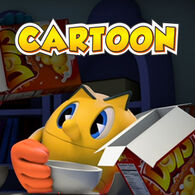 Click here to view this page's gallery.
Trivia
References