President Stratos Spheros is a supporting character in Pac-Man and the Ghostly Adventures. He is also the president of PacWorld. President Spheros is the green pacworlder. His little brother is Betrayus, lord of the Netherworld. His best friend is Sir Cumference. He's voiced by Samuel Vincent.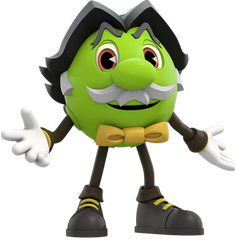 Personality
Edit
President Stratos Spheros is the president of Pacworld. President Spheros is the best friend of Sir Cumference. He is not very presidential and it is honestly surprising why everyone thinks he is a good president.
Appearance
Edit
He is green with white sideburns, orange eyes, a black shirt with yellow and black cuffs, a golden bowtie, black hair and brown pants with yellow and black boots.
Sightings
Edit