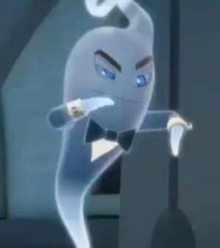 Specter is a gray lightning ghost with a curled appendage on the side of his head. He speaks with a british accent. He is a suave ghost with the ability to possess PacWorlders for long periods of time. He was ordered to find the Repository, but he had other ideas in mind. His plan was to not only take over PacWorld and Netherworld as well. He is a traitor. He is voiced by Brendan Ryan Barrett.
Specter can appear in The Spy Who Slimed Me, Santa Pac and New Girl in Town.
In The Spy Who Slimed Me,
In Santa Pac,
In New Girl in Town,
Apperance
Edit
He is gray with a black bow-tie on his chest, white cuffs on his wrists.
Personaltiy
Edit
Specter is cruel and handsome. He is taking over PacWorld and Netherworld. Specter is the lightning ghost.
Specter called Betrayus a hot-head.
A lot of female Ghosts are attracted to him.
He has the ability to possess more PacWorlders and make them sick.
He is very tough and clever.
Specter is a traitor and soon after he betrayed Betrayus.
It is possible that Specter might be the only lightning ghost since no other ghosts have any lightning power.
He is portrayed to be extremely fast due to fact he is one of the very, very few ghosts to escape Pac's maw.
He is based off of James Bond.
He is seen again in New Girl in Town as a host for a pageant to decide which female ghost who will posses Betrayus' niece Elli.