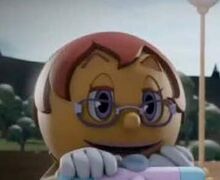 Sunny is Pac-Man's mother. She has purple eyes and is yellow just like her son and husband, orange hair and glasses and shoes. She was supposedly killed along with her husband during the PacWorld wars. It was voiced by TBA.
Her name was mention in "Indiana Pac and the Temple of Slime".
The Pacinator was discovered to be the trigger warning who took out every member of Pac-Man's race (including Pac-Man's parents) with the exception of Pac-Man himself, but it wasn't Betrayus, it was the Pac-Alien species, and they may have imprisoned them.
Sunny, along with her husband Zac, are set to appear in a Christmas special, Happy Holidays and a Merry Berry Day.
Appearance
Edit
Sunny is a yellow PacWorlder with orange hair, purple, thick- rimmed glasses, purple eyes and white gloves.